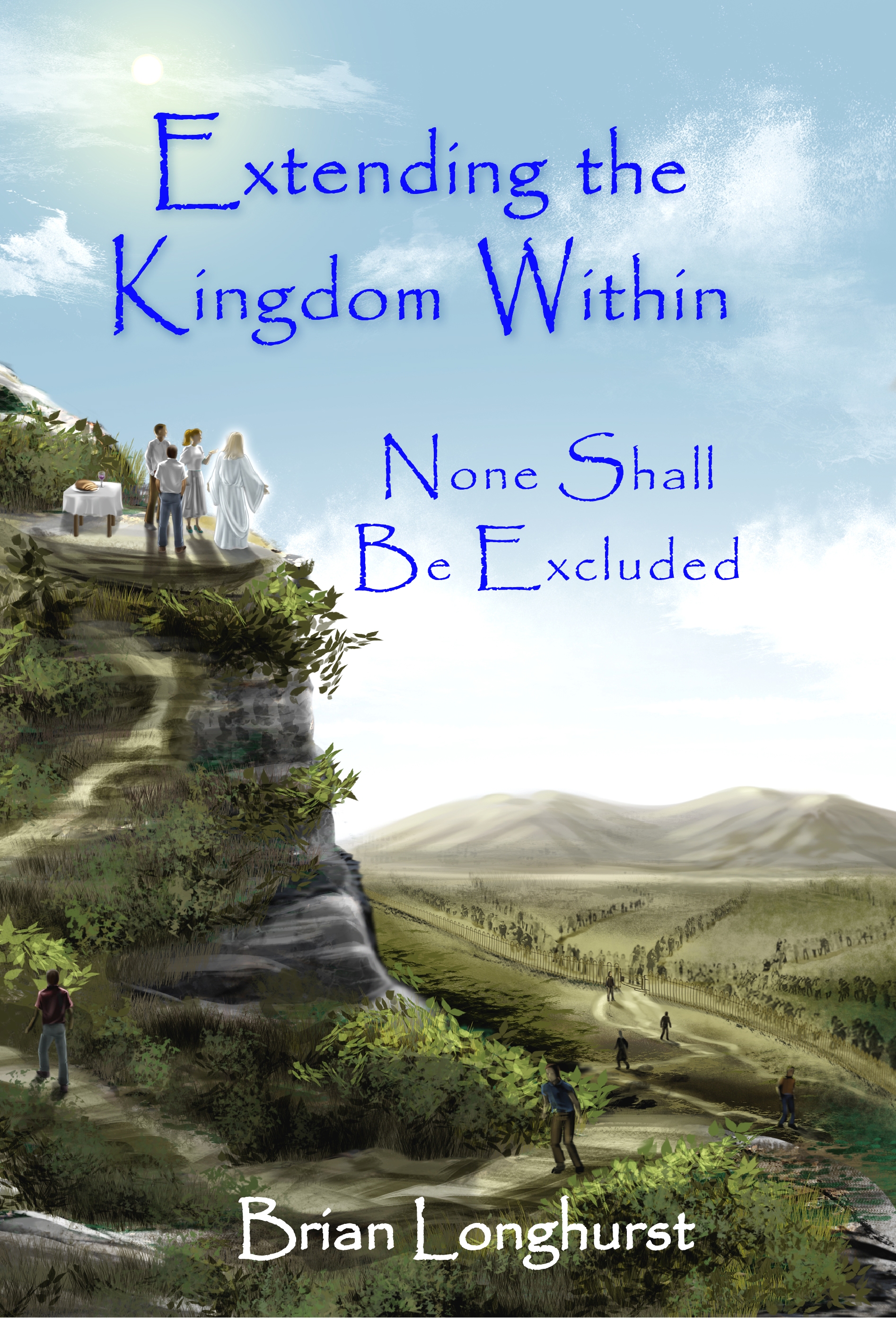 Extending the
Kingdom Within
None Shall Be Excluded
Introductory comments, including an explanation of the cover design:
This, the sixth in the Kingdom series of seven volumes, depicts – within the context of seven purposeful, progressive steps from hell to Heaven – the penultimate step, or phase, of our journey.
The journey from the hell of separation from our our Source, and from our Whole, undivided One Self, is experienced by seeming to be mortal, fragile bodies, oblivious of our true, limitless, transcendent joy, peace and Love. This journey will take us back to the endless reality of the Kingdom of Heaven within us. It can be considered as a series of seven progressive steps, or stages, of expanding, increasing, growing, Awakening, emerging remembrance of eternal, unchangeable Truth … until we are restored to Wholeness, unified Oneness, all Knowledge, and with all creative power of Love and Life. Just like Jesus, our model for Being and our Guide to eternity.
This is, of course, a mystical progress; it cannot be an intellectual one. The intellect (described by Jesus as "The spirit of reckoning, standing in the place of [usurping] faith") has no place in Eternity. We must be ready and willing to leave the intellect behind in order to be restored to remembrance of the Truth of eternity. Jesus/Holy Spirit will relieve us of it when we are ready to relinquish it to Their benign, Loving care. This relinquishing will not be painful to us (although it will be to the ego, masquerading as us! ☺) because we will have realised the intellect is not part of our true, Whole/holy Self.
Our Destination is outside – beyond – time: in the eternity of Heaven, although the process, the journey, seems to occur, proceed, within a dream of linear time.
***
Steve saw a man, who was clearly in charge of the turnstile, telling them of the need for orderliness, and to attune with the refined, Christ-focused energy of peace and tranquillity of the Communion Service, as each one passed through the turnstile. This had the effect of changing their demeanour, from one of clamour amongst those pressing to come through, to a contemplative, reverential attitude as they moved past him through the turnstile, one at a time. This they did, and by so doing they became focused upon, attuned with, the rarefied, exalted vibrations/energy and conditions created by our desire for, and attunement with, the Kingdom of Heaven.
Then I suddenly realised this man, controlling the turnstile, was John the Baptist, and the fence, with its turnstile, symbolised the River Jordan; that all who seek entry into the peace and presence of the Lord by ascending the Holy Hill must cross over the Jordan, and as they cross, to be baptised freely with the Waters of Life. Passing through the turnstile, under the counsel and instruction of John the Baptist, symbolised baptism into a new, uplifted, spiritually-focused attitude of mind and life, thereby making them ready for their step-by-step ascending of the Holy Hill.
I felt as if John the Baptist was relaying the words from, and spirit of, the Communion Service out 'beyond the Jordan', to all who are (spiritually) lost in the wilderness of this conflicted, shadow world, as if he is accustomed to such conditions – as, assuredly, he would have been in the long ago – and can act as a channel for the words, and all the pure desire-energy generated by the devotions.
The devotional Service of Mystical Communion with Christ is 'a beacon of Light on the Hill of the Lord', radiating-out the Light into spiritually dark, wilderness places to draw all who will near to – or into conscious awareness of – the Lord.
Readers' Feedback:
Brian Longhurst has a most beautiful, poetic, heart-lifting style of writing. His dialogues with Jesus – and the Holy Spirit – are profoundly inspiring. This book feels like One of those events to expand and extend my connectedness with the One. In Chapter 16, he explains that "all the while we believe – thus perceive – we have disempowered our self by pretending to be separate from Him, we are unable to fulfil our one and only, true function: Extending perfect Love." And how do we do that? The answer is of course in Brian's book — "Teaching is not doing, it is Being: Being Who you Are." The synchronicity between Brian's book and my learning of A Course in Miracles is breathtaking. May we all Be who we are, shining the Light for others as we journey Home to 'Papa'.
And it is with the help of books like Brian's that this message extends further for all. Your approach is so enlightening and inspiring; thank you so much for all your hard work.
Alison Gray,
Berwick-upon-Tweed, England
***
What an amazing relationship Brian has with the living Christ. In Extending the Kingdom Within ~ None Shall Be Excluded, the sixth book of his Kingdom series, Brian's words once again offer this unique relationship to us all … none of us is excluded.
Chapter 7 caught my attention: True Communication is Holy Communion. I think the church I went to as a boy would disagree with this, which, of course, is why Brian has so many enthusiastic readers. Is this not because he communicates heart to heart?
Most people do not communicate, we talk 'at' each other, or in the direction of each other. For me, True Holy Communion with another person is when you are listening to your own words … and feeling them within the heart/soul of Self. You are then communicating with All humanity … even if no one is listening!
Congratulations Brian … another profound masterpiece of truly inspired writing.
Michael J. Roads,
Author of From Illusion to Enlightenment
***
Again, Brian has brought us a very clear map or where we can be headed if we apply ourselves spiritually, moment by moment. Why should we take this path? Because we are driven to be and do what is our highest capacity, to draw from that Divine nature we all have to not only be our best selves, but to lift thought to what is eternally real, and not remain in what is only temporal illusion. We can dispense with the dream of separation from the Creator Spirit and be in the Kingdom of Heaven right now; and we are blessed to have this Kingdom series of books available as a very helpful guide.
Renee Tilworth,
Devon, England
***
To successfully navigate our changing world we must embrace a deeper awareness of the Divine. Organised religion is falling short of what we truly require as spiritual beings. Our depression and despair are often no more than our deep disconnection from our soul. In Extending the Kingdom Within, Brian's decades-long, intimate relationship with Jesus takes us on yet another quantum step in our journey of the heart, our journey back into Wholeness.
This book ignites deep inner-knowings, enabling the reader to merge with the Love and Truth of Jesus, allowing him to penetrate, saturate and permeate the depths of our Being. We become beacons of Light, where 'none shall be excluded' simply by allowing him to work with us and through us we choose to move from darkness to Light. Reconnecting with our Divine Truth is the next stage of our spiritual Awakening, and this book, as have his others, guides us on how to walk with Jesus on a path of Divine Love. Bravo, Brian … another great contribution to uplifting the consciousness of humanity!
Carolyn Roads,
Queensland, Australia
***
Brian Longhurst may not call himself a mystic but I will. His newest book, Extending the Kingdom Within ~ None Shall Be Excluded is definitely a spiritual gift. He has obtained the Divine connection with the Living Jesus and has shared it with us. I can only compare the book to purchasing a rare antique chest. When the key is finally found in a secret compartment, it unlocks each drawer to reveal a precious gem. Similarly, each chapter of Brian's book unlocks and reveals beautiful mystical secrets and Divine truths.
Connie Lysko,
New Jersey, USA
***
A stunning collection of essays that are all deeply, mystically interconnected and concentrate on the practical means of discovering our true, unified, One Identity. I can feel Brian's robust faith on its pages, as well as his joyful exuberance in shining Light on the Path. The spiritual journey can be difficult at times and Extending the Kingdom Within gives constant reassurance and profound support. A beauty of a book!
Susan Oliver,
Northumberland, England
***
Extending the Kingdom Within is the next, invaluable addition to Brian's Kingdom series, and a book which I feel takes us ever deeper into what it is to be a truly helpful, all-Loving participant in the Great Awakening, being our collective journey Homeward to Oneness in God. Throughout this latest book I found treasures to be pondered, savoured, and applied, with each being received as a precious gift from Brian. His reflections and teachings are beautifully written, but more than that – and most importantly for the reader – they are infinitely practical, offering well-reasoned suggestions that can be utilised in one's own daily life.
Andrea Matthews,
White River, South Africa
***
Book 6 in Brian Longhurst's Kingdom series fills my heart with warmth and light; the words are like peony flowers opening and extending their fragrance; they offer a Vision of Reality, evoking endless joy. I see and feel the meaning of every statement in colour and aliveness, music to my whole inner awareness – melodic and harmonious.
Although the subject matter is deeply esoteric and mystical, it is easy to read, and the simplicity of his explanations facilitates a comfortable resonance. This book really spoke to me, lifting me from seeing with my physical eyes to connection with, awareness of, the reality within. There is nothing contentious – only ever extending Love, Peace, Joy and Light.
The clarity of Brian's writing touches our very essence, however closed and darkened we may think, or have thought, we are. Jesus' words, through Brian, light the touch-paper of the questing mind, causing the Light within to become ablaze with desire and intent to know Who we truly are: the One Son of God, united in our Father.
Linda Down,
Northamptonshire, England
***
As a faithful reader of all of Brian's books of his inspiring walk with Jesus, I have been changed from fearful to hopeful; and now, at last, renewed in the certainty of a joyful faith and trust I never knew was possible. Brian guides the reader through many deep, mystical concepts, and this, book 6 in the Kingdom series, has dived deeper than his preceding five books, to a point where the words have become alive and healing in all my relationships. For so much of my life, religion and spiritually has confused and scared me. How does one know what path and what rules to follow?
Brian, through our brother Jesus' loving help, leads the reader to a new level of existence, eloquently explaining what Jesus really meant 2000 years ago, providing profound insights into the relationship we can ALL have, right now, with the living Jesus. I have also found that my understanding of other books, like A Course in Miracles, is so much easier for me to grasp with the groundwork I have learned from this latest book. Brian is truly a Light, illuminating the path for all his brothers and sisters forward into the Kingdom of Heaven on Earth.
Jolena Pourner,
Houston, Texas.
***
What a wonderful book. Brian is a guide, a mentor, and companion in our journey toward Wholeness. Each short chapter is a roadmap packed with wisdom to guide you on your way, ending with a personal conversation he has had with Jesus. Brian speaks to you and encourages you as a valuable partner in the Great Rescue Program, explaining how effortless and fulfilling it is for any and all of us to extend the Kingdom within.
Rev. Barbara Sharpe,
Dallas. TX
***
I've known Brian for about a decade now, have read all his books, and have always considered him one the most open-minded people I've had the opportunity of meeting. Nothing is off limits. He listens, he understands, he explains with clear reason and ease of intelligibility. And in a seemingly outer context of constant change, his message remains as steadfast and as accessible as ever. I wholeheartedly recommend his books to anyone looking for a pillar of truth within a world of seeming chaos.
Philip Chowney,
Geneva, Switzerland
***
Brian's writing flows beautifully – straight from the heart and soul. Extending the Kingdom Within is a wonderful guide to help our journey homeward, and the exquisite connection Brian has with Jesus is deeply uplifting and inspiring. If you study A Course In Miracles, Brian's book helps clarify some of its more challenging principles with kindness and love. As with all of Brian's books, reading them is a joyful, spiritual experience, and one that I would recommend wholeheartedly.
Helen Bailey,
Woodford Green, England
***
It has been my distinct pleasure to have read all Brian Longhurst's 'Kingdom' series of books – from 1 now to book 6, the penultimate in the projected 7-book series. Each successive book has taken the reader a very purposeful further step forward and upward, from the hell of separation from our Source and our true, Whole, unified Self toward our Destination: Eternal, ineffable Oneness.
This, book 6, takes us a palpably, powerfully greater stride beyond its predecessor, definitely indicating we are but one step away, in this expository Kingdom series, from completion of our journey. The ease of recognition of the Guiding hands of Jesus and the Holy Spirit in Brian's writing can leave the reader in no doubt as to its authenticity, not least because the communications from Jesus and the Holy Spirit throughout the book are so enlightening, encouraging, inspiring – exhilarating. I unreservedly look forward to reading the final book in the Kingdom series!
John Barkovich,
London, Canada
***
There comes a time, a moment when we start to be aware of an inner prompting; a silent voice in our mind which causes us to realise, "Something is not quite right here, this world can't be all there is to life". This is how my own thirst for awakening to spiritual reality started, and Brian's books helped enormously towards embarking on and following this mystical path. You could call this inner voice your instinct, subconscious or just a feeling, which never really fades, but actually grows when we pay it more heed.
Book 6 – as with all in this Kingdom series – most certainly provides abundant guidance and help, including practical advice and crucial reminders to follow your inner guidance to gain awareness and remembrance of who we all truly are. This is how our ego-mind is retrained, transformed from spiritual darkness to the Light of Love and Inner Knowing. Once you know that you are not the ego, the process of Awakening to unconditional Love truly starts.
Angela Philippi,
Bishops Cleeve, England
I hope and trust these comments will be helpful to any considering obtaining a copy. Please click Here to take you to sources of supply. Joyful, inspiring and uplifting reading. ☺

---
Links to other pages on this site:
Communion Part I
Communion Part II
Communion Part III
Book 1: Seek ye First the Kingdom
Book 2: Finding the Kingdom Within
Book 3: Entering the Kingdom Within
Book 4: Living FROM the Kingdom Within
Book 5: Sharing the Kingdom Within
Book 7: BEING the Kingdom Within
Contact
Diary of a Christ Communicant
Diary, Post 2000
Essential Diary
Forum 2012-to date
Forum 2010-2011
Forum 2008-2009
Forum 2006-2007
Glossary of Terms
Messages of Encouragement 201
8
Messages of Encouragement 201
7
Messages of Encouragement 201

6
Messages of Encouragement 201
5
Messages of Encouragement 201
3
-14
Messages of Encouragement 2012
Messages of Encouragement 2011
Messages of Encouragement 2010
Messages of Encouragement 2008-2009
Messages of Encouragement 2006-2007
The final Message of Encouragement
True Forgiveness exercise
Top of page