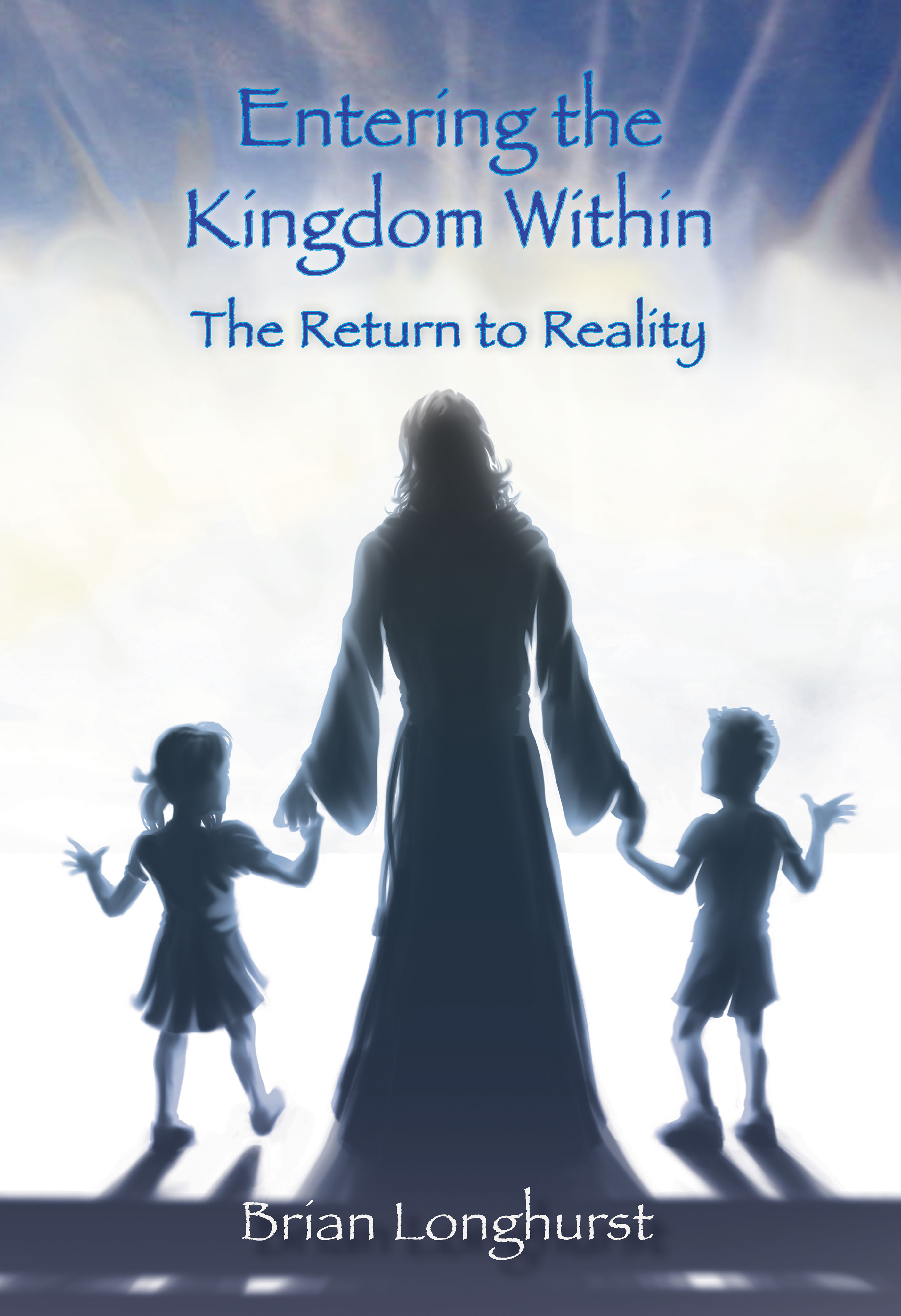 Entering the Kingdom Within
The Return to Reality
Extract from
the
Introduction
, explaining the front cover design:
Jesus is recorded as saying:
Verily I say unto you, Except ye be converted [i.e., be willing to change your mind about who you believe you are], and become as little children [i.e., trusting, believing, having faith], ye shall not enter into the kingdom of heaven. (Matt. 18:3). Hence, the inspiration for the cover illustration of this book, and its title, Entering the Kingdom Within ~ The Return to Reality. It portrays a vision I was blessed to experience, in which I was observing this scene from about ten paces behind Jesus and the two little children.
They had ascended, and were standing at the top of, seven wide stone steps, with a broad tread, surveying – the children, in wonderment and delight – the scene before them, in readiness for their entering in to what was a place of Light, the brightness, the effulgence of which this shadow world has no knowledge, experience or understanding; a place of welcoming of such amplitude as to be irresistible; a place of Love, peace and joy inestimably far beyond Earth-mind comprehension. I instantly, intuitively Knew, of a certainty beyond all doubt, that this was the Kingdom of Heaven. How could it be other!?
Jesus had led – had been able to lead – these souls, in heart and mind as little children, to this place because they trusted him implicitly, unreservedly, wholeheartedly and Loved him totally, without question because they Knew he was trustworthy. This is because Jesus is, and emanates an aura of, an energy that is unmistakably, unmissably, all-empowered-by-Love. And Love is trustworthy. Without that Love and trust he could not have led them there. Neither can he lead any of us without our willingness, our desire, for such Love, trust and commitment to follow him where he will unerringly take us. How can he take us where we are unwilling to go?
The vantage point from where I was beholding this wondrous scene was ground level – from which the steps rose – and was twilight, symbolising the shadowland that is time and place; the illusory wilderness of spiritual darkness; a 'far country' into which the Son of God momentarily chose to venture forth, just as described in the parable of the prodigal son (Luke 15:11 ff). The little children, I inwardly Knew, felt, experienced, were Theresa and me, and yet symbolise, represent the entire, fragmented Sonship of God; One, appearing as many in an impossible fantasy of separation from the Source of All – our Father Creator; Papa. It is all the fragments – not one is excluded, nor ever can be – of the Sonship that are being restored to spiritual union, and thus, Wakefulness in our rightful, eternal Home: the ineffable rapture of Heaven; the Heart-Mind of God, which, in Truth, we, His One Son, never left.
Here, in book three, we stand at the threshold of the Kingdom within, from where, in response to our heart's desire, we are invited to enter in. Entering the Kingdom within is not the completion, but a continuation, of our journey back into the eternity of our rightful Home: Heaven. With the essential Help from Jesus and/or the Holy Spirit that is freely ours for the asking, entering in is a quantum step forward to our Awakening, to the state of union – actually, reunion – of the seemingly separated, fragmented mind of God's Son to wholeness; to Oneness in Him. Jesus says it perfectly in A Course in Miracles:
God's plan for your salvation [i.e., Awakening] cannot change, nor can it fail. Be thankful it remains exactly as He planned it. Changelessly it stands before you like an open door, with warmth and welcome calling from beyond the doorway, bidding you to enter in and make yourself at home, where you belong. (W-122.5)
As each inward step is taken, the Light within grows ever-brighter, illuminating our mind as we are lovingly drawn deeper into the Kingdom, until we realise that we are the Light – just as Jesus told us two thousand years ago (Matt. 5:14). So does our insight into, our discernment of, our Oneness with It grow and expand, until our destination is reached: full Wakefulness to Oneness in the Heart-Mind of God, our ever-Loving Father Creator.
This is a completely unfamiliar realm to minds that have been focused since time immemorial on an external, illusory, shadowy world of time and place, which is the entire reversal of eternal reality. Not only so, but the part of our mind that is split-off from awareness of eternity – referred to by Jesus in A Course in Miracles as the ego – will strenuously resist our rejection of the temporal (illusion) and acceptance of Truth. It cannot, therefore, be overemphasised that learning – remembering – the Truth of eternity requires, of necessity, absolute commitment and exhaustive repetition. If we do not have a burning, yearning desire for spiritual Truth and a matching commitment to it, we may not yet feel ready to embark on this journey. However, Jesus and Holy Spirit Know the hearts and minds of us all, and many who may not, today, feel that they are entirely ready, might, tomorrow, be triggered, catalysed, into a conscious sense of readiness by some inner or outer event or experience.
Our willingness first to trust and follow Their lead will then, at the appropriate moment, bring understanding as an affirmation that our trust was entirely well-founded. Trust, a willingness to believe our Guide, must come first because it is our choice for unwillingness to believe that blocks our discernment, our understanding of esoteric, mystical, eternal Truth.
Willingness to believe opens the door in our mind to understanding, which always follows. There may, in the early days of our willingness, be a time lapse between willingness to believe and understanding. This is not God withholding our understanding from us; it is that our receptors to understanding have been blocked by our unbelief for so long that it may take 'time' for them to be gradually unblocked. Hence, our progress from the self-imposed slumber of spiritual darkness to complete, illuminated, spiritual Wakefulness – just like Jesus – being, of necessity, a one-step-at-a-time progress.
Trust has always been, and will always be, rewarded with growing awareness of the Love, peace and joy that is available to us all in and from our own within; the abode of our Ever-Loving Father Creator and our true, One Self.
Readers' Feedback:
Each chapter of Entering the Kingdom Within is full of deep, enlightening, inspiring and uplifting information. Sometimes it needs re-reading; not because the writing is unclear, but the subject matter is talking from Spirit to 'human' so we need to raise our minds to reach those heights.
I liked that the chapters were short, said what they said, and then capped off with the Diary of a Christ Communicant entries, which were so pertinent to the whole message.
Brian's sincerity comes through shining on every page. His stance is so clearly one of sureness; that is very evident and brings the reader along in that place of truth, which is good. I also liked his humour.
This book is not as a finger wagging exercise or a lecture on how we MUST be, but an offering from Jesus, and this means it feels like a genuine gift as Brian has been given the gift. I liked that humility.
This book is a Map of Spirituality, a road map of Truth. A real 'How to'. Every question about life had answers and it all spoke sense.
But the final three chapters on Prayer were really what moved me the most. Really moved me. And I was so grateful to have read them and have really re-read and re-read them as they had the most impact on me.
Christ mind shows through, but Brian shows his individuality – and humour – as he should, and I liked that.
Sarah Thomas, Devon, England
***
Entering the Kingdom Within ~ The Return to Reality is an extraordinary book. Each sentence is rich in meaning, and every sentence helped me to move that much closer to an awareness of the Kingdom within. I would read a few paragraphs and then have to stop and allow the meaning to take root in me. It was like our brother, Jesus, was reading it with me, and then in those moments of silent contemplation he was expanding the meaning for me. I will be eternally grateful to Brian for this contribution to assist in our Awakening. I know just how much work it takes to bring forth a book like this. It certainly came into my life at the perfect time.
I think the world has enough books based on A Course in Miracles, and then I read another Brian Longhurst book and I realize that I am wrong. This book is an essential addition to the library of any serious ACIM student. It is one of those rare books that I read and then return to, picking it up and re-reading parts of it as needed for encouragement and inspiration.
Rev Myron Jones, Lake Charles, Louisiana
***
I found Brian's first two books very valuable, and now, 'Entering the Kingdom Within' takes us even deeper and more fully into the path of Spiritual Awakening. Reading Brian's work is like taking a walk along a beautiful pathway, where in every step, on every page, one finds a jewel – a nugget of Truth which, on discovery, takes one's breath away. The words of each nugget are to be felt in their entirety and savoured, until the wisdom in that jewel is embraced fully, before reading on.
This new book contains many such jewels, interlaced with Brian's self-reflective honesty, knowledge and humour, making the content approachable and friendly amidst a writing style that is pristine in its clarity. Of benefit to students of A Course in Miracles is Brian's deep knowledge of the teachings. His weaving of Course principles through his own descriptions is very helpful and infinitely practical.
I found the personal communications from Jesus at the start of each chapter to be a small meditation in their own right – to be pondered, absorbed and called upon as a reminder, when needed, of the truth of Love's Reality. Brian's friendship with Jesus, and with Papa, is an affirmation and encouragement that such a Holy Intimacy is possible for all of us.
Andrea Matthews,
White River, South Africa
***
Hearty and generous, this book is a celebratory stew of commentary, insight, story-telling, and so much more that will aid the spiritual student. Brian Longhurst is an eloquent writer who is incisive in shining Light on current issues, and brings a fresh perspective on the path of spiritual Awakening through Christian mysticism – all in accord with A Course in Miracles. He is a cheerleader for anyone looking for 'the peace that passeth understanding'. What a joy to see this third volume of the 'Kingdom' series in print!
Susan Oliver, Wooler, England
***
In this, his third book in a series, Brian Longhurst delves deeply into the teachings of A Course in Miracles. He offers insight from his first-hand experiences and his blessed communication with Jesus chronicled in his "Diary of a Christ Communicant" messages, featured after each chapter.
A useful theme in the book is to shed light on biblical verses that have been so distorted by traditional Christendom over the years. Gone is the image of an unfathomable God who would require blood sacrifice of his only child. Instead, we see a nurturing, loving, accessible Parent who could only will happiness for His creations, who are one with Him.
This book enters the mystical with a recognition of Oneness with our Source and with All That Is. Yet, it keeps us grounded by demonstrating practical applications. The author shows how spiritual principles can be used in our daily lives as well as in communion with the Divine.
I appreciate the recurring mention of animals as part of our Oneness, inseparable from us. The horror of factory farming with the brutal treatment of sentient beings as disconnected objects is an apt topic for the awakening mind to be consider. A Course in Miracles teaches: "All that I give is given to myself." We are affected when we participate in this violence by ingesting it, even if we block it from our awareness. Thank you, Brian, for speaking out on this subject where so many spiritual teachers are silent.
Judy Kelly, Portland, Oregon
***
Brian Longhurst has done it again … and he will probably keep on doing it! He has taken the wilted and drowning Christian world view, laid it on its side so that the old sameness in which it was drowning can trickle out, and vigorously given it the Breath of Life. In his new book Brian offers to the reader renewed, profoundly discerning, insights into the mystical reality of Jesus' teaching. He does this brilliantly, and yet with a humbleness that deeply engages the reader.
Brian's books should be compulsory reading for every Christian. This would give them pause, a time to rethink their path and, hopefully, either move, with Jesus, into the Truth he came to share with us, or continue to stumble along the misconceived path of an illusory Christianity.
Michael J. Roads, Queensland, Australia. Author: From Illusion to Enlightenment
***
Being a more seasoned seeker with many influences from other spiritual writers I find Brian's books plain speaking, direct and easy to assimilate. The concepts can be difficult to convey in words. Language is limited. But Brian has the ability to distil his words into the essence of our purpose: to be One with the Father. It bears repeating, which he does for our benefit: that this is attainable. Not only attainable but necessary for our awareness of the gifts we already have in the NOW.
Brian has done it again! He has been able to take concepts of spirituality and put them into a form that I am able to understand. His style of writing flows, it makes sense. It allows me to digest and consider themes in a new light. A brighter light of understanding. Thank you for your insights.
It is a meditation to read Brian Longhurst's work. I find myself entering the Kingdom within encouraged to do the work required to connect to "Papa". His style of writing is like a conversation. He does not preach to you but guides you down the path of understanding difficult concepts. The path becomes less rocky. He speaks as the true mystic he is … giving us the view of the ego, the view of Jesus, our brother, so we can gently, easily absorb into our heart the acceptance of our Oneness. He addresses the difficult questions we all have regarding our ability to actually be aware of our Oneness in God. He assures us that we can accomplish this. Brian is a trustworthy guide in your journey within, to continue on your path back to the Light.
Rev. Barbara Sharpe, Dallas, TX.
***
This third book in the 'Kingdom' series is an invitation into the Kingdom of Heaven. Brian really has a knack for clarity when it comes to expressing the deep, mystical truths of the spiritual awakening process from within.
The vulnerability he openly expresses, in relation to living this truth, allowed me to connect to his path in an accessible and encouraging way.
I've already planned to read it again, due to the richness of content.
PE Chowney, Geneva, Switzerland
***
Yet another beautifully written book by Brian and his Helpers. This book takes you another step closer to spiritual reality; it is soothing, reassuring, encouraging and so clear in each explanation of esoteric truths, that it naturally uplifts you. To be read and reread indeed and to be kept preciously at hand. Thank you Brian. I can't wait to read the next one!
Amazon customer
***
Brian Longhurst's third book in a progressively unfolding, enlightening series, Entering the Kingdom Within, speaks to the yearning of those who have seen through the world and its failed dreams. It offers a purpose in time to those who feel themselves trapped within time. Its 'theology' is congruent with A Course in Miracles and through Brian's personal story will offer insight and encouragement to those who are ready to discover their true Identity as whole Christ Mind.
Jane W., Oxfordshire, England
***
These highly spiritualised writings of Brian's have helped keep me perfectly focused in the 'here and now'. We are all One with this, and Jesus' gift just keeps on giving
The completely unserviceable insanity of choosing ego instead of Reality has become more than obvious.
Sandra Yamamoto, Higashimatsuyama City, Japan.
I hope and trust these comments will be helpful to any considering obtaining a copy. Please click here to take you to sources of supply. Joyful, inspiring and uplifting reading. ☺

---
Links to other pages on this site:
Communion Part I
Communion Part II
Communion Part III
Book 1: Seek ye First the Kingdom
Book 2: Finding the Kingdom Within
Book 3: Entering the Kingdom Within
Book 4: Living FROM the Kingdom Within
Book 5: Sharing the Kingdom Within
Book 6: Extending the Kingdom Within
Book 7: BEING the Kingdom Within Contact Diary of a Christ Communicant Diary, Post 2000 Essential Diary Forum_2012-to_date.htm Forum 2010-2011
Forum 2008-2009
Forum 2006-2007
Glossary of Terms
Messages of Encouragement 201
8
Messages of Encouragement 201
7
Messages of Encouragement 201

6
Messages of Encouragement 201
5
Messages of Encouragement 201
3
-14
Messages of Encouragement 2012
Messages of Encouragement 2011
Messages of Encouragement 2010
Messages of Encouragement 2008-2009
Messages of Encouragement 2006-2007
The final Message of Encouragement
True Forgiveness exercise
Top of page