"Seek ye First the Kingdom..."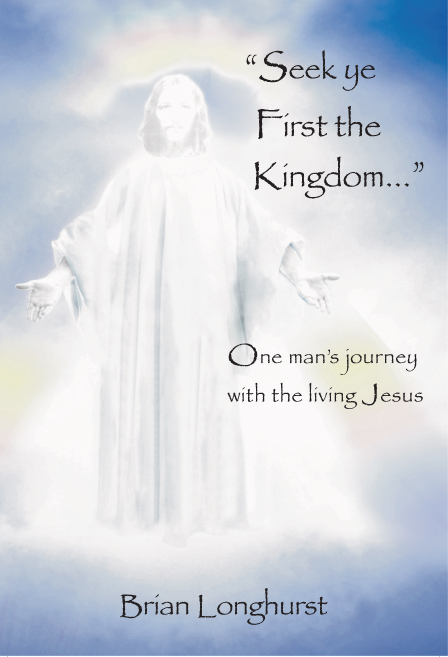 Dear Friends,
I am very pleased to advise that my book,
"Seek ye First the Kingdom..."
One man's journey with the living Jesus
(SYFK), is now, as of August 2012, available in printed, paperback edition (the ebook edition was released in February 2012).
Although sales of ebooks have overtaken those of printed books, many of you have indicated a preference for the print edition. Should you wish to order (print or ebook editions), please click here and this will take you to the SYFK page of the Publisher's website. This will give you all the ordering options available (for either edition), such as Amazon, Barnes and Noble, etc. You can, of course, also order the print edition from your local bookshop, by quoting the title, author's name and the ISBN: 978-0-9856048-1-3
Since I emailed copies of the first draft of the manuscript to some of you in mid-2005 — under the preliminary title "Synchronicity, for Goodness' Sake" — much addition and updating has taken place. SYFK is now more than 50% bigger, extended from the initial 80 thousand to well over 120 thousand words as a result of many new, blessed, revelatory, illuminating experiences, and enhanced understanding of earlier events, being added.
Please feel free to pass this information along to any who you think might be interested, or tell your friends on Facebook.
Thanks to you all for your interest. May "Seek ye First the Kingdom..." inspire, encourage, uplift and enlighten your life, and renew you in purpose as you journey toward the Light.
Love and endless blessings for inner peace and joy,

Brian Longhurst
Specification: Book size 9" x 6" (230 x 154 mm). Total pages: 340. Word count: 121,000 approx. ISBN: 978-0-9856048-1-3
---
Home SYFK SYFK Q & A This Week's MoE Readers' Feedback on book 1 Readers' Feedback on book 2 Readers' Feedback on book 3 Readers' Feedback on book 4 Messages of Encouragement 2018 Messages of Encouragement 2017 Messages of Encouragement 2016 Messages of Encouragement 2015 Messages of Encouragement 2013-14 Diary of a Christ Communicant Diary, Post 2000 Essential Diary Messages of Encouragement 2012 Messages of Encouragement 2011 Messages of Encouragement 2010 Messages of Encouragement 2008-2009 Messages of Encouragement 2006-2007 Forum 2012-2014 Forum 2010-2011 Forum 2008-2009 Forum 2006-2007 Contact Communion Glossary of Terms Prayers for Healing Top of page